I live in a very small house, but my window looks out on a very large world. — Henry David Thoreau
Latest Log
September 26, 2016
Latest Notes
February 17, 2014
Hello. We're Teresa Petrykowski and Sterling Udell, and this is our home.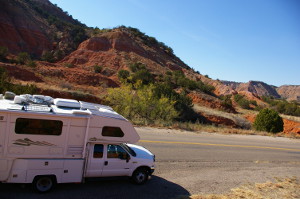 We originally began fulltime RVing in August 2002 but had to return to a more stationary existence after only a couple of years. We never gave up hope that we would be able to return to the road, and eventually in October 2012 we succeeded.
The tale begins here. You can follow our travels, and look at the photographs we've taken along the way, by following the links below.
Note: Since we've returned, we've started redesigning this website. As you navigate around, you'll still find remnants of the original 2002 design. The archived entries will remain in the old format, but the rest of the site will be in a state of flux until the new appearance is finalized, and implemented throughout.
For notification when we post new content, or to join the discussion, follow us on Google+.