Essential Wisconsin

Thursday, 7 Nov 2002
written by Teresa
To those of us raised on a small island, there is a deep-seated connection to the sea. Long periods away from its broad, open expense can lead to feelings of melancholy and loss. Here in the centre of the continent far from the shores of the Atlantic and Pacific is a body of water that to all intents and purposes looks and behaves like the briny and if it were not for the insistence of the locals, I could remain quite happy in the illusion. For people from England and maybe other parts of the US, a lake is a relatively small body of water, sometimes no larger than a puddle, where the other side is visible and easily reachable. Lake Michigan is another kettle of fish. It is one of the Great Lakes and the collective name has a truth to it that was incomprehensible to me before I came to Racine for the first time. What you have to bear in mind is that on a good day, standing on the white cliffs at Dover, the coast of France is visible with the naked eye.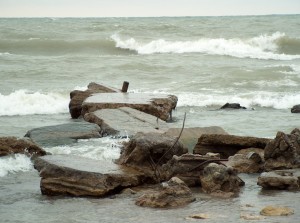 Lake Michigan on the other hand is approximately eighty miles across, three hundred and twenty five miles long and six hundred feet deep. In short, it's huge. It has waves, storms, lighthouses, beach, a small tide, seagulls and a horizon with no hint of land. Regardless of these similarities, it is definitely lacking in the salt department but the gentle sound of water lapping on the shore could easily fool you. Sterling refers to it with a note of pride in his voice. It's where he learnt to sail, where he walked on the shore in teenage years and where he went swimming in the icy waters during the summer. It is 'his' lake and no doubt everybody who lives on its shores has some sense of connection with it. I am immensely grateful for it's existence. It's too long since I've seen the sea.
Being in Wisconsin has of course necessitated a visit to a cheese factory. The aim is to go on a cheese-making day and buy the warm curds as they are separated from the whey. The first time this delicacy was described to me, my stomach turned slightly. I'm not sure what I expected but the mere mention of curds and whey somehow brought unpleasant associations to mind. Maybe it was something to do with a seated arachnid, who knows. Anyway, I have become a convert to the cause. Fresh curds squeak on the teeth, have a soft chewy texture and an incredibly mild taste. We missed the actual making this time, but on previous visits I have watched as white clad workers scoop the dripping curds out of the vats and pack them into cheese rings. Needless to say, there is very little spare room in the fridge and Sterling seems excessively pleased with life.
Do you know someone who would enjoy this article? Click to e-mail it to them!