Going South

Tuesday, 19 Nov 2002
written by Teresa
We have come south in search of warmth but evidently not far enough. The heavens have opened, it has attempted to snow and last night the mains water hose froze.
We spent a few days, post tornados, in Kentucky and while the winds had dropped the rain was intent on showing us who was boss. Having lived in England most of my life, I'm used to the odd shower or two but this definitely took the biscuit. It rained solidly, persistently and without abatement for well over twenty-four hours. The campground was near flooded and the thick boulder clay, overlaying the limestone, clung to shoes in the manner of some inextricable chemical bond.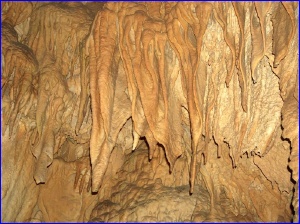 We were staying at Mammoth Cave National Park and while the rain and the soggy aftermath prevented us from walking the trails, it didn't prevent us from taking one of the cave tours. The most remarkable feature of this was the guide and his droll sense of humour. While by his own admission he was not a geologist he was a natural raconteur and kept us entertained with endless stories of hapless visitors asking mind numbing questions and generally endangering themselves and others with their stunning behaviour.
One evening, at dusk, we took the winch ferry across the Green River and sorely regretted not getting a picture of the camper dwarfing the little vessel. Vessel may be too strong a word. It consisted of a flat bed with a small rotary paddle and four steadying guys running along wires strung between the banks. We seemed horribly low in the water and the river was high, fast and muddy after the heavy downpours of the previous days. It all seemed very exciting and daring and this impression was compounded when the ferryman told us that if we wanted to come back the next day, we should wait till he came on duty as his morning counterpart would refuse to carry anything so large!
We arrived in Tennessee yesterday, not far west of the Appalachians. The hills are clad in the last rusts of the deciduous trees in their decline and yesterday's swathes of mist have given way to bright blue skies and weak winterish sun. It is surprisingly beautiful and fills me with anticipation of the mountains proper. We are staying at our first Escapees campground and it's a bit of a different experience. We were greeted jubilantly, hugged and congratulated for full timing. It was all a bit stunning. Imagine being welcomed home by a family you didn't know you had, and you'll get the idea. We weren't expected to say how long we were staying or pay up front. There was a bluegrass band playing in the "office" when we arrived and there are social gatherings every afternoon. Our little shoebox is tiny amongst the massive motor homes and fifth-wheels but as Sterling points out, we've still got the largest satellite dish.
Do you know someone who would enjoy this article? Click to e-mail it to them!