Licences, Rattles and Guillotines

Friday, 1 Nov 2002
written by Teresa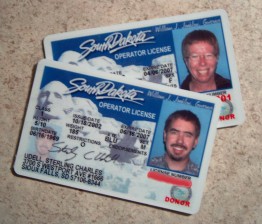 South Dakota driving licence authorities have a novel modus operandi that makes us feel they must be kindred spirits. Rather than the usual stationary office, they roam about the state, setting up shop in various small towns on pre-arranged dates in the most unlikely venues. The larger towns (in this case a population of 4,500) can expect them once a week and we learnt this to our cost having showered and generally spruced up in order to look vaguely respectable on the mug shot. It was a Monday morning and descending into the bowels of a veterans' home by means of an extremely old lift, we discovered that they weren't due till Friday. There was no waiting room so we reluctantly went home. Smaller towns can expect them twice a month and in the very sparsely populated areas, you have to ring in advance to find out when they might next be gracing the region with a visit. We finally tracked them down a couple of weeks later and now have South Dakota licences to go with the plates, vehicle registration and address.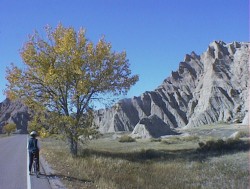 One of our last stops in South Dakota was at Badlands National Park where we managed to fit in some cycling and walking in the bare, stark moonscape. Out on the bikes we had an encounter with a small rattlesnake that was intent on remaining coiled up on the warm black tarmac of the main park road. Sterling went into rescue mode but the snake held it's ground and knew it had the better of us. We weren't going too close and he just continued peering at us from the centre of the coil and making the usual threatening noises. Sterling attempted to use the matador approach with my wind shell but I expect being green, it was the wrong colour. We rode off in the end hoping he would move quickly if a car came along.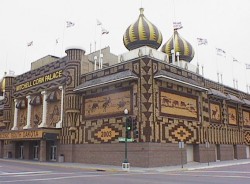 Mitchell, South Dakota boasts the Corn Palace, a piece of American kitsch that defies explanation. South Dakota is not the corn centre of the world but perhaps that is where their aspirations lie, so that each autumn, they decorate the Palace with husks and sheaves creating scenes from white American western history. Cowboys, bison, deer and pheasant feature strongly in a tableau crafted from the crop. To say it is corny is to do it an injustice and approaching the town, the billboards stun with adverts such as "You'll be a-maized" and "We're all ears".
Our path out of South Dakota took us through the rich fields of Iowa to Des Moines and a visit with one of Sterling's friends. While Dave might protest at the accolade, he is in fact an electronics wizard and specialises in using his talents to engineer and build installations for his annual Halloween party. This year's work of art involved a model guillotine and a life size ghoul. The entire display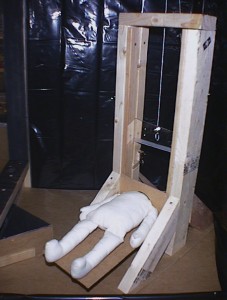 is found by following a strip of low-key lighting on the floor, down a dark corridor constructed to guide you to an enclosed area viewable through a clear Perspex front. An activation switch is reached by putting a hand in another very small, contained area, within the box, where all that is visible is the switch itself, which illuminates the guillotine once it is depressed. The guillotine blade begins to move. If the button is released everything stops thus encouraging the participant to keep their hand in the box. The illusion of being in control continues for a few more seconds but then the blade suddenly drops and synchronistically a belt smacks down onto the wrist. The unfortunate figure under the blade shudders and as the shaken guest turns to leave, a life size ghoul suddenly reaches out to grab them from the dark recesses. My description and photographs cannot begin to do justice to the sophistication of the entire work, operated by a computer program that Dave builds to control the system. Unfortunately, Sterling and I couldn't stay for the party but had great fun helping with some of the more minor aspects of construction.
The weather is beginning to get cold, campsites shutting for the winter, water becoming scarce and dump stations closing. We're in Wisconsin visiting with family and friends before we head south into something resembling warmth and sunshine.
Do you know someone who would enjoy this article? Click to e-mail it to them!