Sylvan Lake, Colorado

Mon, 9 Sep 2002
written by Teresa
Living in a house with the conveniences of endless running water, electricity, sewerage & telephone is a far cry from the realities of being on the road. We woke this morning to pouring rain up at Sylvan Lake. The clouds rolling down the autumnal hills are reminiscent of Wales on a good day. In spite of the continual downpour throughout the night and the seeming torrents from the sky, there is still an official state of drought in Colorado. As we've travelled over the last couple of weeks we have seen empty reservoirs and tell tale terracing on the sides of many others. Living in a house insulated us from these realities and it is only now that we are dependent on our own small tank and the ability to fill it that the preciousness and scarcity of this resource truly has a personal meaning. There are campsites that are no longer allowing the filling of tanks and others that are restricting access to water. While this is not causing us any undue hardship, it does make us conscious of every drop that comes out of the tap. It would be interesting to know how much water we used on an average day at Hager Lane.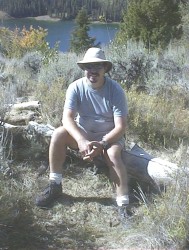 Our forty-gallon tank lasts us four nights and we speculate that we could stretch it to five with a bit more conservation. Having said this, we talk about the fantasy of standing for fifteen minutes under a hot, high-pressure shower and no doubt we will if given the opportunity.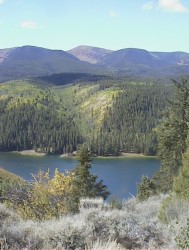 The weather at Sylvan Lake has been extremely changeable in the three days we've been up here but yesterday morning there were blue skies and warm sunshine and we set off for a walk up one of the side valleys. The Sneve Gulch Trail rises steeply from the lakeside to climb 1500 feet over a couple of miles or so. At these altitudes and with our present level of fitness the path was demanding but numerous stops to admire the views and recover our breath made it an enjoyable experience. I often wonder why dripping with sweat and panting like an animal is something that I claim to find pleasurable but the sheer sense of achievement and of being under my own steam in such isolated beautiful places is probably explanation enough.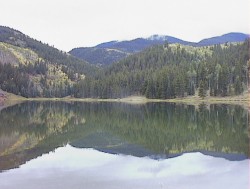 In the still weather after the rain the waters of the lake act as a perfect mirror for the surrounding hills with their yellowing aspen, dark spruce and wisps of remaining cloud. Needless to say, the path around the lake has a much easier gradient than virtually any other path in a ten-mile radius. It's made more for an afternoon saunter than a hard slog but has beautiful views even with cloudy skies. There is evidence of beaver activity but we have not been lucky enough to see any here. The bed of the small mountain stream that feeds the reservoir is scattered with bright red rock from the surrounding hills. It looks unreal enough to believe that the Park service has brought it down and carefully choreographed it's position for the tourists. I don't think they have but I might get Sterling to ask on our way out.
Do you know someone who would enjoy this article? Click to e-mail it to them!