Through the Mountains

Tuesday, 28 Jan 2003
written by Teresa
My sense of direction is usually sufficient to get me from A to B but the lack of pavements in American cities sometimes throws me off course. There is always the possibility that it's my lack of orienteering skills but I prefer to stick with the first explanation. Either way, I succeeded in getting lost while trying to walk a mile down a straight road, back to the hotel in Denver. I set off confidently enough along a well-defined sidewalk only to find myself before too long, tramping a dirt path worn through the grass banks. Just as I was losing heart, the paving reappeared, lulling me into a false sense of security. Needless to say, the concrete disappeared again and I was faced with a wall of trees, the only ways forward being on the extremely busy road or through a high-rise housing development. The later seemed the preferable choice and I set off around their car park in the direction I wanted to go.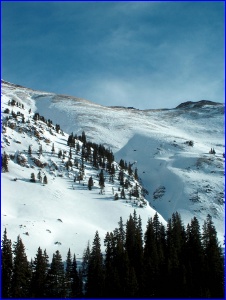 My efforts were greeted with the appearance of a ten-foot fence resulting in a nifty pirouette and a retracing of my steps. I eventually found my way out and set off determined to make it back before night-fall, when I realised I could no longer see the hotel that had been in plain view prior to my little detour. I won't bore you with the rest of the saga but it seems true that walking is an alien concept in most American cities. It's easy enough to get anywhere if you're in the obligatory vehicle but bi-peds are not encouraged and town planners do not cater for the odd English woman attempting to walk home from the shops.
Leaving Denver, we travelled west up into the Rockies, to a world of clear periwinkle skies, sharp mountains and brilliant reflected light, bouncing off the snowy blankets. The snow is criss-crossed with animal tracks although the little beasties are not evident in the noontime sun. Colorado specialises in these amazing winter days but it's impossible to tire of them and as Sterling says, they are heartbreakingly beautiful.
The village of Georgetown nestles in the bottom of what must surely be one of the windiest spots in the Rockies. Getting out of the truck here is a manoeuvre requiring planning and forethought. The door is liable to be ripped from your hand and opening both doors at once results in all loose contents being swept out of the truck in a flurry.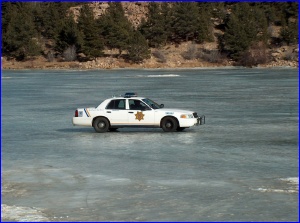 There is a small lake just outside the town that freezes to a considerable depth in the winter, and the Denver police forces use it to practice their driving skills. The juxtaposition of the "DANGER - THIN ICE" sign and numerous police cars skidding, skating, slipping and sliding over the surface is a little concerning although they maintain that the ice was eighteen inches deep and perfectly safe.
We were heading for Glenwood Springs where we lived before taking to the road. It's a small mountain town in a spectacular setting on the western slope of the mountains and as we drove the familiar route of the interstate, we were surprised by the emotions that surfaced. Feelings of going home mingled with a sense of homesickness and loss that surprised us. If and when we stop travelling, Glenwood is very high on the list of possible places to settle.
We spent two days visiting with friends and of course soaking in the Hot Springs. Sitting in the hot pool (104 degrees) looking at the snow-covered mountains and watching as the light fades and the stars emerge is an experience not found in too many towns. We miss it, and having the opportunity to take the waters further confirms our connection to Glenwood.
We camped at Fruita for a few days before leaving Colorado, to give Sterling a chance to do some work. The fire ban has been lifted and we were determined to make full use of the fact. While buying wood from the ranger station, we were told that a couple of pitches still had wood scraps left by previous campers. Given our inclination for scavenging we set off to look and came across a pile of building debris that looked suitable for the purpose.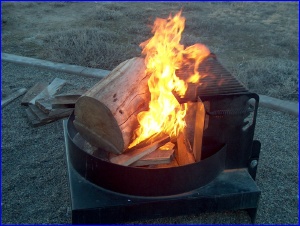 Sat in the middle was a cross section of tree trunk measuring about eighteen inches long and probably a foot in diameter. While Sterling proceeded to pick up the various smaller pieces, I had my eye on the big one. There was no way that I was going to be able to carry it back to our campsite but I quickly realised that I could roll it along by kicking it with my foot or a long stick I acquired. Sterling decided that I was nothing short of mad, insisting that it wouldn't burn but being the pyromaniac that I am, I persisted. Luckily there was no one else on the campground to see the pantomime of my progress or lack there of. Not being a true cylinder, the trunk had a mind of it's own and insisted on an idiosyncratic path, in spite of my attempts to the contrary. All I can say in my defence is that it caught light with a vengeance and we had the largest fire imaginable for the next four hours.
Do you know someone who would enjoy this article? Click to e-mail it to them!