It's been interesting to return to the camper after so many years. The first time we started full-timing there was a considerable process of finding the best place to put everything and the best way of doing all those day-to-day tasks that are intrinsic to living in an RV. This time round, everything is very familiar and other than a few moments hesitation of "Where does this go?" or "How did we used to do this?" it's almost as though the experience from ten years ago is hardwired into our systems.
Sterling has just given me an update report on our solar charge - as you can tell, our interests have not changed either! The theoretical maximum charge at solar noon today was 13.6 amps and we saw 12.2 on our amp meter. Even with both computers and the satellite dish on we're still charging at over 4 amps.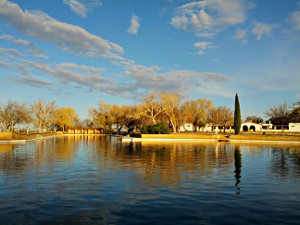 Unfortunately it's not going to last. There's another winter storm warning in effect and we can see the ominous dark cloud rolling in.
After leaving Pecos, we had a short stop at Balmorhea State Park The park itself is very small but contains the largest spring fed swimming pool in the world or so they say. Signs in various small towns proclaiming world famous pizza, bagels or donuts make me a little sceptical about such claims, but you never just know. The water at Balmorhea is crystal clear and even in the weak sunshine of a winters day the pool looks both beautiful and inviting. Various small fish, including catfish as well as turtles share the water with the swimmers. On the day Sterling took a dip he was the only human in the water and spent a good deal of time snorkelling around looking at the various beasties. He pronounced the water delightful and at 76 degrees it was certainly warmer than the air temperature.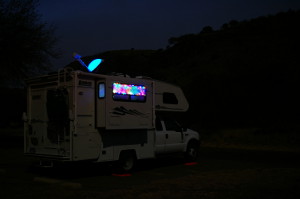 On Christmas Eve we finally left the flatlands and headed up into the Davis Mountains to spend the festive week in the state park. In comparison to a lot of mountains these are quite small but having spent weeks in the almost perfect flatness of the panhandle and west Texas, it was nearly enough to make us cry to at last see a horizon that was more than a horizontal line.
As we opened the door to the entrance station our nostrils were greeted by the wonderful smell of freshly baked cakes and cookies. The table by the door was covered in a most inviting selection apparently made by the campground hostess. They were delicious and such a nice welcome at this time of year.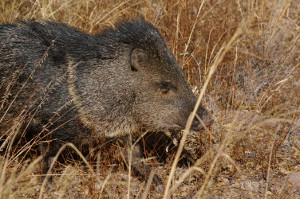 Our Christmas present was seeing a band of ten javelina up close enough to both observe their behaviour and to take some good photographs. They seem quite like wild pigs in both appearance and behaviour: they use their snouts to overturn rocks and rummage on the ground for food, they snort and grunt and appear quite gregarious. However the title of the ubiquitous book by Conrad J. Storad says it all: Don't Call Me Pig! And sure enough, they're not pigs. They are however almost blind and as long as we were downwind of them them we were able to see them at close quarters only drawing their attention if we made a noise.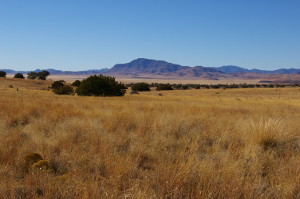 Davis Mountains is on a different scale than Balmorhea and a number of trails offered the opportunity to stretch our legs. The views from the Skyline Drive Trail stretch out across the soft yellow grassland before rising in the distance to the bare orangey brown slopes of the distant mountains. The gentle light softens the lines and colours of the land while leaving a sense of remoteness and wildness. There is something about this landscape that I feel I want to somehow absorb, to hold in my mind's eye for a long time to come.
The small town of Fort Davis sits close to the mountains and is obviously a tourist stronghold at certain times of year. The numbers of hotels and restaurants give testament to this fact and it's a cute enough town, the centre holding on to its origins with boardwalks and a mixture of older stone buildings as well as wooden ones.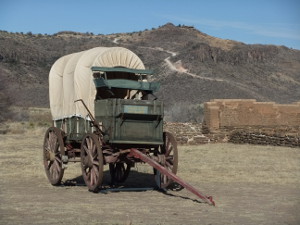 On the edge of town sits the Fort Davis National Historic Site originally positioned to protect people on the San Antonio to El Paso road. A short section of the road is still evident today but in spite of its name bears a startling resemblance to a dirt track. A few of the buildings have been renovated and refurbished in a style in keeping with the nineteenth century when they were built to house both the enlisted men and the officers.
The enlisted men had rations but officers and civilian workers were able to buy goods in the issue room at the fort commissary. To non-Americans, succotash is some sort of expletive, suitable for children,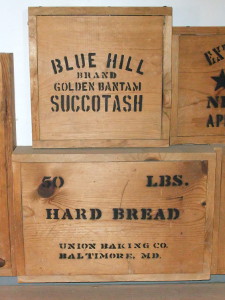 frequently muttered by a lisping Sylvester when one of his dastardly plots to capture Tweetie Pie had come to naught. So imagine my surprise on seeing a box of succotash on display in the commissary. A quick google reveals that it is indeed a food – usually corn and lima beans – but that seems far too mundane an explanation for such a wonderful word: for me it will always be "thuffering thuccotash!"
Various of the African American regiments created by the 1866 Act to enlarge the size of the American Army were based here during its second period as an active fort. Even today the local population, like many small towns in the west, is almost exclusively white and Latino suggesting that the Buffalo Soldiers were probably tolerated and even accepted during their tours of duty but not encouraged to settle in the area.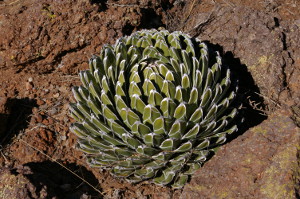 Not far down the road is the Chihuahuan Desert Nature Centre where we whiled away an afternoon wandering around the botanical garden, noseying in the greenhouse and walking the Modesta Canyon Trail which was surprisingly interesting, varied and rugged in places. We were rewarded with the sight of a Northern Harrier flying low across the hillside looking for an early dinner.
We spent New Year in the Tumble In RV Park, Marfa primarily so we could go to the Cochineal restaurant. The RV park is a departure from the norm. It's small, quirky and has a number of old Airstreams that are available to rent. The self-service "office" is an orange and white 1962 Mobile Scout and the park's retro neon sign somehow captures the feel of the place.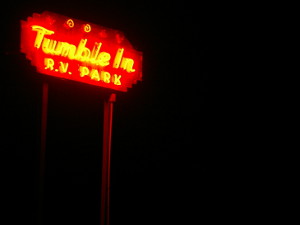 The only downside is that it's right next to a rail line but it's not an overly busy one and the sight of freight trains carrying their multi-coloured containers disappearing into the distance across the pale land more than made up for the occasional noise.
Top billing in Marfa is given to The Marfa Lights. This mysterious phenomenon was allegedly first recorded in 1883 and while there are numerous speculations about their true nature, the wise of the town decided to make a feature of them, building a very impressive Viewing Centre nine miles down the road in what is claimed to be the most favourable location to experience the illuminations. Depending on which account you read either the lights are seen "every clear night" or "… are reported occasionally and unpredictably, perhaps 10 to 20 times a year." I'm always willing to entertain the most unlikely of explanations but Sterling tries to bring me down to earth with his scientific approach. In this case an account of a study undertaken by physics students from the University of Texas that led them to conclude that the sightings are little more than headlights travelling along U.S. 67. But what if they're wrong?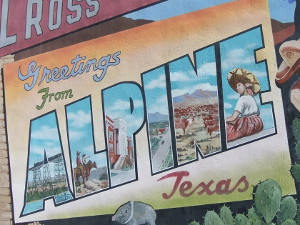 Next stop was Alpine which doesn't quite live up to its name but is a remarkably nice town. Not as pretentious as Marfa it's more like a real town that you could live in. We ate a really tasty lunch in a cafe with numerous vegetarian options, the hardware shop was large and well stocked, the supermarket sold various Quorn and Morningstar items, there's a tiny cinema and I had a haircut that didn't make me want to wrap my head in a towel for the foreseeable future. Before we'd left, Alpine had been added to our second tier list of places we might consider settling when we stop travelling the next time.