There's a whole pile of sand nestled up against the slopes of the Sangre de Cristo Mountains in southeastern Colorado. The contrast, of colours, shapes, gradients and topography, brought about by this juxtaposition is mesmerising and worthy of one of the longest stops we've made in a while.

We were last here fourteen years ago, when it was a mere National Monument: it's grown up since then and has been given full National Park status. We've also progressed, from our tent days, and while we remember our first visit with affection we are surprised by just how stunning it is and find ourselves reluctant to leave.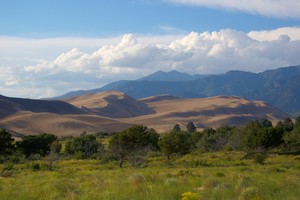 Sand in sandwiches or underwear tends to be on the unpleasant side and returning from a hike on the dunes with pockets full of sand, that then distribute themselves around the camper, can be slightly irritating.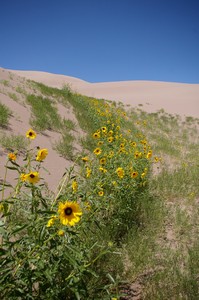 Such minor annoyances are offset by the magnificent beauty of these huge dunes: the character of their concave and convex slopes, sharp sweeping ridge lines, wind rippled surfaces and interdune sunflowers all shifting with the changing sunlight, sharp in the early and late hours, washed out in the blaze of midday at these high altitudes, ominous under the darkening skies of thunderstorms.
Hiking up the dunes is hard work: the sand shifting underfoot. The ridges offer the easiest routes having harder packed surfaces. Sterling has been battling a damaged achilles tendon for some years and while it has stopped him running he can still hike, as long as he's careful. Out on the dunes, his desire to run full-pelt down the convex slope of a dune proves too much for the injury and results in a limping return to the camper. Our plan to rent sand sledges has to be postponed but gives us a compelling reason to return!

At the base of the larger dunes, separating them from the smaller escape dunes, is the seasonal Medano Creek. It is usually dry by this time of year but an unusually wet July has brought additional water down from the surrounding mountains and the channel is still flowing in a wide, ankle deep trickle of warm water that is a pure delight to walk through. We spend hours splashing upstream and back, light glinting off the surface, small eddies and waves cutting across the sandy bed, surrounded by dunes and mountains: few experiences could bring such pleasure.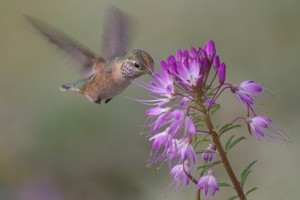 Rocky Mountain Beeplants lend a splash of purple to the campground and as their name suggests they are nectar producing machines, attracting not only their namesakes but also hummingbirds and hummingbird moths. I'm determined to catch a close-up photograph of the latter and spend a considerable amount of time staking out likely looking blooms.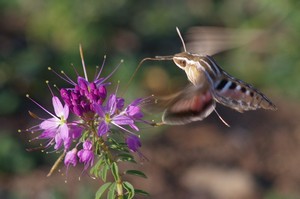 As usual, as soon as the camera comes out, the beasties vanish but eventually my patience is rewarded by a female Broad-tailed hummingbird. My attempts with the White-lined Sphinx Moths are more plentiful although less rewarding but numerous other small wildlife keep us entertained around the campsite: Lesser Chipmunk, Circus Beetle and the aptly named Assassin Fly that I catch in action making short work of a grasshopper.
In spite of the damaged tendon, we manage a few short hikes. The trails are virtually empty, most visitors heading to the sand and adjacent water. The views are amazing, the unlikely looking landscape hard to tire of. We feel particularly fortunate to be here.