While Utah may be one of our favourite states, if we had to name one as home, it would be Colorado. It's where we set off from when we took to the road back in 2002 and we hope that it's where we might return to when we stop full-timing. It's nine years since we've been in the state and we both feel inordinately pleased to be back. We're planning to be here for a good few weeks: visiting friends, returning to Glenwood Springs and catching up with the various National Parks that the state has to offer. At this stage I'm not sure what I'm most excited about.

Sterling returned from Google I/O stimulated and inspired and has since disappeared into the depths of porting Wearable Widgets to Android Wear. I've seen him a few times as he surfaces for air but he's usually got a frown or a grimace on his face and is speaking to one of his various smart watches or Glass: "O.K. Google, set a timer for 5 minutes", "O.K. Glass, show me a widget". Unfortunately, they do not always do their master's bidding.
While a great deal of the conference-generated enthusiasm has been focused on work-related topics, an inordinate amount has gone to peripherals and donuts in particular. If you're ever passing through Reno in Nevada, I have it on the very best authority that Doughboys Donuts are of the very highest quality and their chocolate glazed is especially worthy of praise.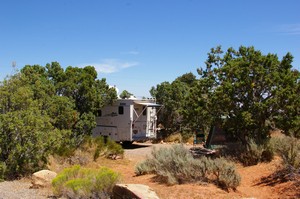 In spite of the pressure to get the app released on Wear, we are also making time to enjoy ourselves. The red sandstone canyon area continues across the state line from Utah into Colorado National Monument. We camp here for a few days thoroughly enjoying the hikes, not so keen on the little black flies that plague the campground. For some reason, we had forgotten that it was on a previous tent camping trip here that we finally capitulated, drove into town and bought our screen house. It only seems appropriate to be back at the right time of year to need it.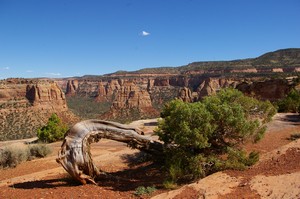 Monument Canyon lies far below the short Canyon Rim Trail, the major rock formations looking impressive even from this distance. Independence Monument is definitely worth a mention today with The States celebrating its barefaced cheek in declaring independence from the motherland. If you're inclined to take offence, please don't: it's just a little joke at the expense of the upstart colonials.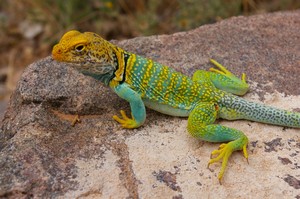 From the trails we savour the park: the Junipers laden with pale blue-grey berries, the bonsai-style stunted Pinyons contorted in amazing shapes; the lines on their twisted trunks a monochrome imitation of a barber's pole, the drop of sheer red sandstone walls and sculpted monoliths left standing on the canyon floors and perhaps most wonderful of all, the Collared Lizards.