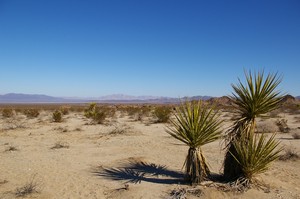 Leaving Arizona we have come west into California to Joshua Tree National Park. There is something very familiar: the creosote is still with us, as are the Palo Verde, cholla, ocotillo, packrats, and low humidity. The Park has a foot in two different deserts, the Colorado and the Mojave, with much of it being a transition zone between the two. Having lost the saguaro and organ pipe, our first impressions of the southern parts of the park, in the Colorado desert, are of something missing but as we travel north along the edge of the wide open Pinto Basin, into the Mojave desert and the heart of the park, the trees for which it is named start making their appearance and suddenly the loss of the giant cacti doesn't feel so great.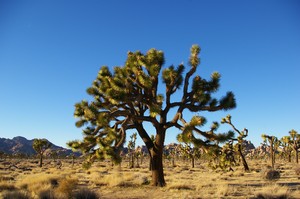 It seems as though deserts make up for their comparative sparsity of vegetation by hosting some of the most unusual and entertaining plants to be found anywhere. Here is no exception. With their spiky green tufts sprouting at the ends of their often twisted arms, the fascinating shapes of the Joshua trees lend a significant interest to the landscape and we find ourselves as delighted with them as we were with the cacti in the Sonoran desert.
The first full day here is our anniversary and we couldn't have hoped for a better place to celebrate. Various small trails give us our first taste of the area as we get in amongst the giant rock piles that also characterise the park, the paths weaving this way and that through the gaps between the rounded surfaces of the well eroded granite, Joshua trees growing all around.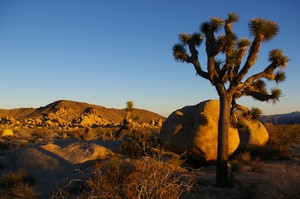 It is a very different landscape to the one we've become familiar with over the last few weeks and changes like this are probably one of the biggest pleasures in travelling; one day we can be among the giant cacti, the next delighting in the rock piles and Joshua trees.
Today, we're sitting in what twenty four hours ago seemed like the perfect campsite here in Belle Campground. It is set amongst the huge rocks surrounded by Joshua trees and creosote on the flat, sandy desert floor.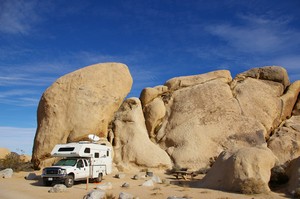 In the mid-day sun the rock is the colour of sandstone, at dawn and dusk, varying shades of orange. Up until this morning I would have described it as dramatic, beautiful, quiet and idyllic. As the long weekend gets under way, the droves have arrived and this small campground has turned into a major highway with people driving the tiny loop and climbers scaling the wall of rock just feet from the camper, their voices banishing the quiet. I know I sound like Ms. Grumpy and that's probably because I'm resenting the loss of tranquility. I'll get over it and we'll still be here when the weekend is over.