Summer in the States conjures up images of heat, sunshine and summer clothing. That is unless you're in Grand Teton National Park at an altitude of nearly 7,000 feet: we woke this morning to a snow shower followed by hail bouncing off the roof of the camper. A couple of nights ago we had a low of 23F (-5C). Today the daytime temperature is hovering around 40F (4.5C) and although that wouldn't be too bad in the autumn I take exception to it in mid-June. The thermal underwear is back out, the fleeces back on and the furnace kicking in repeatedly as it attempts to keep us warm. If you're tempted to think I'm a wimp, you'd probably be not too far off the mark. I just want the opportunity to sit outside in the warmth with a cold beer at the end of a day's work. Maybe it's time for lower altitudes south of here. I shouldn't complain, the forecast is for warmer, drier weather and we have already enjoyed a few bright clear days in the park.

It's hard to imagine an act that could follow the iconic Yellowstone but the sight of the magnificent rugged Teton Range rising steeply from the shores of Jackson Lake is just the ticket. Looking across the water from the east shore, with no foothills to distract attention from the jagged peaks or steep sided canyons, the view is truly magnificent, the snow persisting in the crevices and hollows, accentuating the shapes and angles of this comparatively young range. They dominate the landscape, stilling the spirit, putting life in perspective.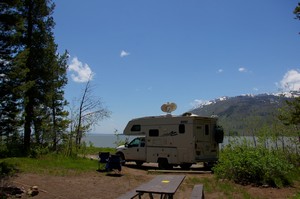 This is another park that we have both visited a number of times previously, but never with the camper. For old times sake we head for Lizard Creek campground where we stayed following our cycling tour in 2001. We have a clear memory of the site we were on and pull into the same one: on the edge of the lake, looking out to the lower summits of the more northerly stretch of the mountain range. We were tenting on our last visit, nimbly side-stepping the bear poo on the trail to the loo house. We have our own house with us this time and besides which we've invested in bear spray, just incase.
Between work days we make time for some walking. On the Grand View Trail we are rewarded for the climb with the perfect lunchtime view where we sit and munch our usual statutory sandwiches.

Refreshed and rejuvenated we set off around Two Ocean Lake not quite appreciating just how far the entire hike will be. Twelve and a half miles later we return to the camper for a well earned sit to rest our tired feet.