My resolve to post logs more regularly has fallen by the wayside as the pressure of work continues. The new app is now listed on Google Play but is still in its infancy. There's more work than we can shake a stick at before it resembles something that might, or might not, bring any money in and the situation epitomizes the uncertain nature of app development. Stories of embarrassing amounts of money being made from app sales are a myth, built on the back of a handful of apps. The reality for the majority is untold hours of work, much hair-pulling and a very modest income, if lucky.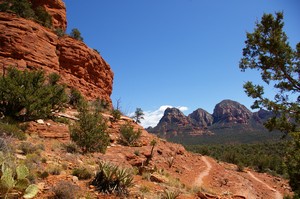 In the last eight weeks, we've taken four days off, two of them in celebration of my birthday, when Sterling arranged a surprise trip to Sedona, AZ. The town has a reputation for being both very upmarket and in an amazing setting and lives up to its billing on both counts.
We're always on the look out for places to add to our short-list of possible towns to live in once we stop full-timing and Sedona makes the cut; in spite of the obvious wealth, there's also some affordable housing, probably because there's virtually no employment other than low paid service industry positions.
The area surrounding the town is crisscrossed with numerous trails. It's a warm sunny afternoon and perfect conditions for a hike out on the Mescal Mountain trail. It's a path with stunning views from the moment we step out to the moment we return and all for very little effort; the four miles gently climbing through the Junipers and following the ledges scooped out of the cliff faces.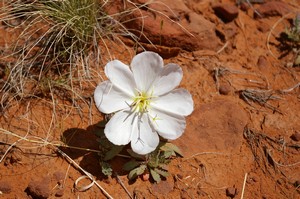 Sculpted red sandstone, green vegetation, spring flowers and clear blue sky make an ideal backdrop for a celebratory day and we top it off with dinner at the local brewpub which is in walking distance of the campground we're staying at. What a treat!
The following day, whilst heading towards New Mexico, we see a sign for Walnut Canyon National Monument and veer off the interstate for a short visit. We're not disappointed. The canyon itself is impressive enough but the real attractions are the cliff dwellings created by the Sinagua people (sin agua - without water) over eight hundred years ago. The dwellings were built under the overhangs on the steep canyon sides, shallow caves eroded out of the canyon's upper limestone strata.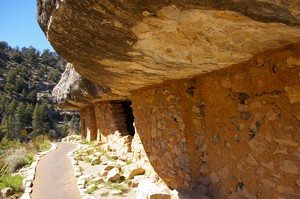 A short trail goes from the rim down to some of the remains. The two hundred and forty steps, along with seven thousand feet of altitude, bring home to us just how fit these people must have been, living where they did, farming on the rimtop and visiting neighbouring dwellings on the other side of the canyon. It's a park we'd never heard of but a delightful find and well worth the stop.
Our other stop of the day is Meteor Crater There's no denying that this is one impressive hole. Created by a meteor some 50,000 years ago it's a sight not to be missed. However, it is privately owned, entrance costs a small fortune and viewing is from a tiny section of the rim. The masses are not allowed around the two and a half mile circumference nor down into the crater itself. It's one of those places that we couldn't just drive past even though the severely restricted access is somewhat disappointing.

In spite of this it doesn't detract from a couple of wonderful days off and now we're heading for Petrified Forest National Park where we plan to have another short break - after we've done some more work that is!