Would we buy another Lance Camper?

Saturday, 5 Oct 2002
written by Sterling
Editor's Note: [15 May 03] The following article still stands, but only to a point. Please read the followup, Lance Lessons.
---
I felt compelled to write this article because, although in many ways we're pretty happy with our Lance, we've concluded that we probably wouldn't buy another one.
On the plus side, it's well-designed overall. It's the lowest-height slideout truck camper on the market, which has many advantages. And there's clearly been a lot of thought gone into even small details, like the windows in the ends of the slideout that give you a great view from the dinette. Although there are a few design faults, like a front window that sucks water in through its drain holes when you drive in the rain, you can't reasonably expect it to be perfect.
And in general, they seem to have specified good components for the construction. Most of the cabinetry is real wood, for example, rather than particle board. This year they've actually installed a genuine 3-stage charger capable of delivering its full 45-amp rating to the battery, and smart enough to know when it should stop doing so. But once again, there are some exceptions, like the bathroom vent that has broken in 3 different ways in less than 2 months of ownership.
No, the real problem is that Lance's build quality leaves a lot to be desired. Examples of this are everywhere on our camperů One of our jacks was crooked when the camper was delivered, contributing to the instability (and our angst) when un/loading the camper on the truck. Sawdust was everywhere in the camper, in window tracks, cupboards, and every light fixture. One of our drawers is crooked because the left track was placed higher than the right one. Another drawer had its latch catchplate mounted incorrectly, causing it to come open, fall out, and break as we were driving down the road. A third drawer sticks in humid weather; take it out, and you can see what a hack job its installation was. Our ladder is crooked. Trim strips aren't securely fastened.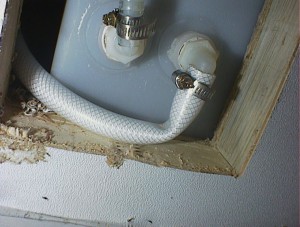 A large percentage of the screws used throughout the camper's construction are in at odd angles. We've found a number of screws just lying about, either "extras" or ones that have come adrift from places that aren't obvious. All of the water fittings under the kitchen sink were loose from the factory, giving us the delightful experience of opening the back door one day to a small river across the floor. And here's my favorite: No less than 3 of the hoses in the internal water system are kinked, including the main line from the water tank to the pump. This has caused all manner of problems with water pressure and pump behavior oddities.
Overall, it's just sloppy. And it's just inexcusable. Once again, I understand that no camper is going to be perfect, but the number and pervasiveness of the flaws demonstrates that this is more than just an anomaly. We've also heard enough from other Lance owners to know that we're not alone - many have much more serious issues than we do. To me, it shows how a company with a majority of the market share has become complacent and lost sight of what gave them that share in the first place.
---
Do you know someone who would enjoy this article? Click to e-mail it to them!