The First Week

Tue, 3 Sep 2002
written by Teresa
The wind's up and the clouds are looming over the mountains but we're snug in the camper. We've been travelling a little over a week but still need to be in Colorado for various appointments. We were totally exhausted by the time we left Glenwood and drove all of thirty miles down the road and stopped at Rifle Gap for a few nights.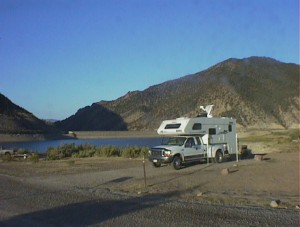 It was here that we faced a test of our conviction that what we are doing is fun. Someone stole our very expensive lounger chairs along with a cheap and tacky plastic table - just the right height for a glass while reclining - and Sterling's old Teva sandals. I wouldn't mind about the sandals but I'd just gone to the bother of cleaning them the day before. I lose count of how many times we've camped over the last few years but we've never had anything taken off a pitch. For a while there it completely destroyed our faith in humanity and made us glare suspiciously at everybody. We're over the worst of it now - Sterling has new sandals (very nice) and we're looking to replace the chairs. The suspicion still lingers and we lock everything up all the time. It made me feel incredibly naive to have believed that our belongings were safe and also very vulnerable to be out here in our shoebox. For a day or so it made us wonder if we'd done the right thing and it certainly wasn't the only thing to raise that question for us during our first week.
We had read that new campers always have numerous problems emerge shortly after delivery. Ours was no exception. Without boring you all senseless, there are problems with the water pump, electric jacks, awning and bathroom vent. We're returning to get them sorted on the tenth and in the meanwhile are entertaining each other with high pitched yelps and cries from the shower as the water suddenly changes temperature or reduces to a dribble not large enough to wet a mouse. We're mostly cleanish most of the time but as my brother Vinny would say "Who needs a sink? - I'm going to be at one with nature".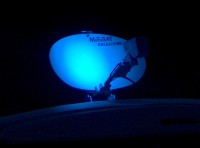 Then there's the Internet satellite dish. A piece of equipment costing as much as it did has no business doing anything other than working perfectly. While you can rely on Sterling to give you the technical version, take it from me, the thing's just stupid. It confuses the sun with the satellite it's meant to lock on to. It's lazy and tries to turn the wrong way when scanning the sky, because it's a shorter distance. It puts itself away at the drop of a hat. Having said all that it does work the vast majority of the time and Sterling is ironing out the problems. In it's favour I will say that the lights on it are a gorgeous colour of blue and it looks fantastic at night. More importantly it keeps us in touch with the world and allows Sterling to work now and again and earn us a crust of bread.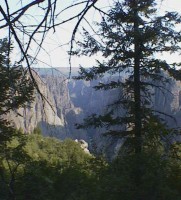 With all these issues to contend with, it's almost been incidental where we've actually been camped. There's so many things to sort out with the camper that there's been little time for much else. Just for the record, we went from Rifle to Black Canyon of the Gunnison National Park. The drive from Grand Junction to Montrose is a desolate emptiness and the highlights of the drive were a sign for a Basic Cake Decoration class in a community college out in the middle of nowhere and another sign pointing down a side road, for a Bull Sale in February. We managed a couple of spectacular walks along the rim during the four nights we spent at the canyon.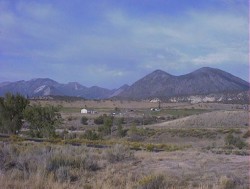 It was a good opportunity to star gaze and the sunsets and sun rises reminded us of why we're doing this. It's delightful to open the front blind in the morning and look out on these spectacular views often before the sun has made it over the horizon. From the national park we headed for Crawford State Park and will stay here for a few days more before we head back to Glenwood for an appointment on Thursday.
Do you know someone who would enjoy this article? Click to e-mail it to them!